Remote Patient Monitoring
The opportunity to support healthcare without limits in time and location
We are finalizing a smart remote patient monitoring solution for hospitals and clinics, applicable for remote monitoring of patients in an unrivalled way. Our solution has already been used in several clinics, including the Klinikum rechts der Isar (Technical University of Munich, TUM), to monitor COVID-19 patients in home isolation as part of a study. The cosinuss° remote monitoring system is also currently being used in several research projects. We aim to medically certify this field-tested system and scale it up into hospitals and clinics as an easy-to-use, cost-effective remote patient monitoring solution, for broader application.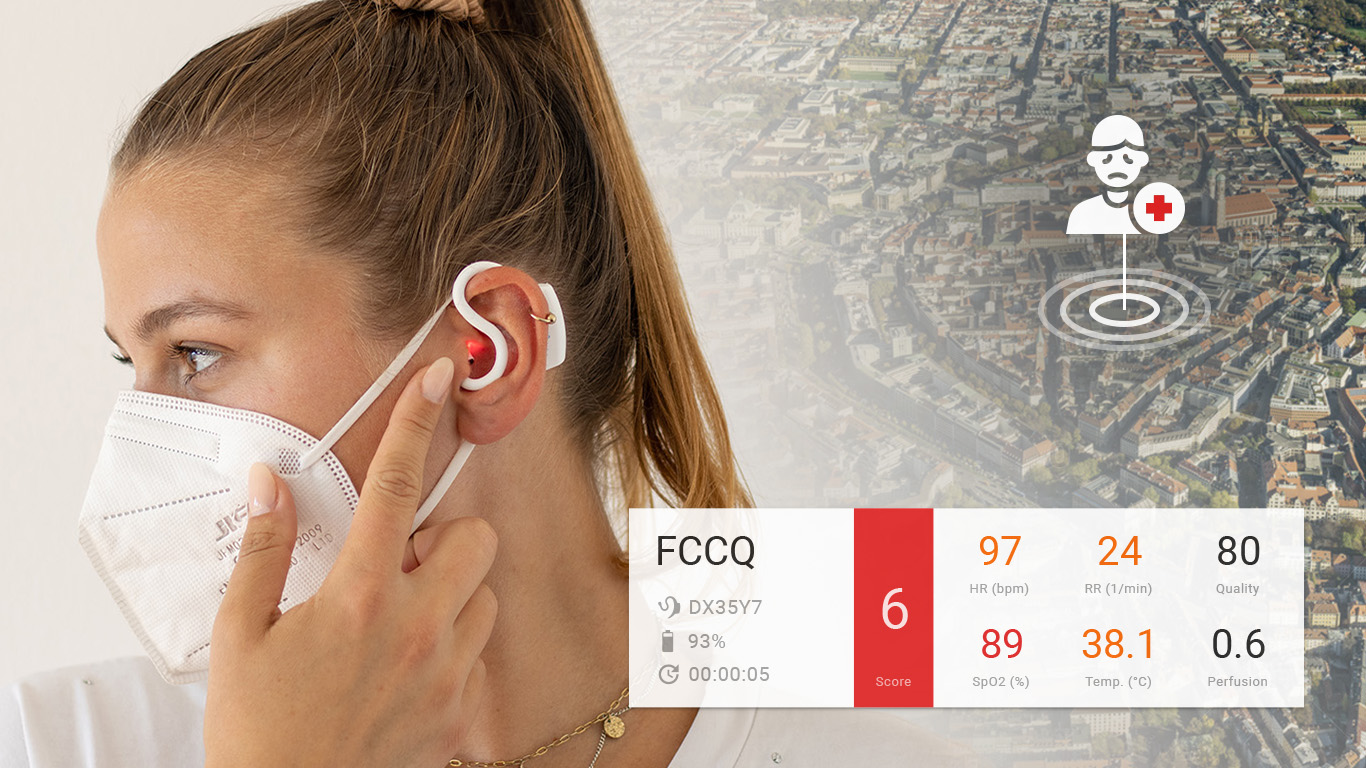 High risk of infections in medical facilities
In hospitals there is an increased risk of nosocomial infections with several diseases. In Germany, for example, there are approximately 400.000 to 600.000 nosocomial infections with up to 20.000 deaths per year1 – often caused by
multi-resistant germs. According to a study almost every tenth patient brings dangerous multi-resistant germs into the clinic.2 This is a potential danger not only for patients, but also for the medical staff.
Limitations due to time-consuming health assessment
In hospitals and medical centers patients can only be treated one after the other due to the limited capacities and available medical staff. For this purpose, a doctor has an average of eight minutes per patient during which, among other measures, he must record the relevant vital parameters and decide on the appropriate next steps. This leads to considerable delays and limitations in treatment of patients.3
Current telemedicine solutions only provide subjective data
Currently available telemedicine solutions for the actual relief of problems such as risk of nosocomial infections and time-consuming health assessment are limited to subjective, manually entered patient data and video consultation, lacking the essential, objective vital signs data from the patients.
The Solution
Remote Patient Monitoring with highly accurate In-Ear Sensors
To address these challenges we are currently developing the cosinuss° RPM (Remote Patient Monitoring) solution, consisting of an in-ear wearable sensor, a gateway (cosinuss° LabApp or Gateway) and a server database (cosinuss° Server), all developed in-house.
The in-ear wearable is a first-in-class vital signs sensor that monitors all the key physiological vital parameters and other key health indicators continuously, non-invasively and in a mobile way. The vital parameters can be monitored with high accuracy in a single in-ear device in everyday life, without restricting movement. The in-ear-sensor is not only robust but also small, light-weight, non-invasive and convenient to use, even for elderly people. In-ear buds are widely accepted and comfortable to wear – even during the night. Most importantly, in addition to its superior medical-grade accuracy compared to other wearable vital signs monitors such as wrist devices or skin patches, the in-ear sensor provides highly reliable data collections.
Furthermore, cosinuss° RPM not only will provide the wearable in-ear sensor, but also a whole end-to-end solution directly connecting numerous patients with a healthcare professional. Aligning the monitored patients on the dashboard according to their Deviation Scores thus will allow the clinical staff to take care of the patients in need first.
Measuring the relevant vital signs
Our cosinuss° RPM system is going to continuously evaluate:
Caring for the patients who are in need first
The cosinuss° RPM will include advanced algorithms to automatically calculate the key physiological vital parameters of a patient, based on continuous measurements. It is going to assist the medical staff in decision-making also by calculating a Deviation Score per patient, indicating a level of deviation from medically accepted normal ranges. The medical staff will oversee the health states of numerous patients in real-time on a dashboard, provided by the cosinuss° Health Platform, and decide whether and for which patient urgent action is necessary (e.g. hospitalization). The cosinuss° RPM could be used as a standalone solution or be seamlessly integrated with existing telemedicine solutions worldwide.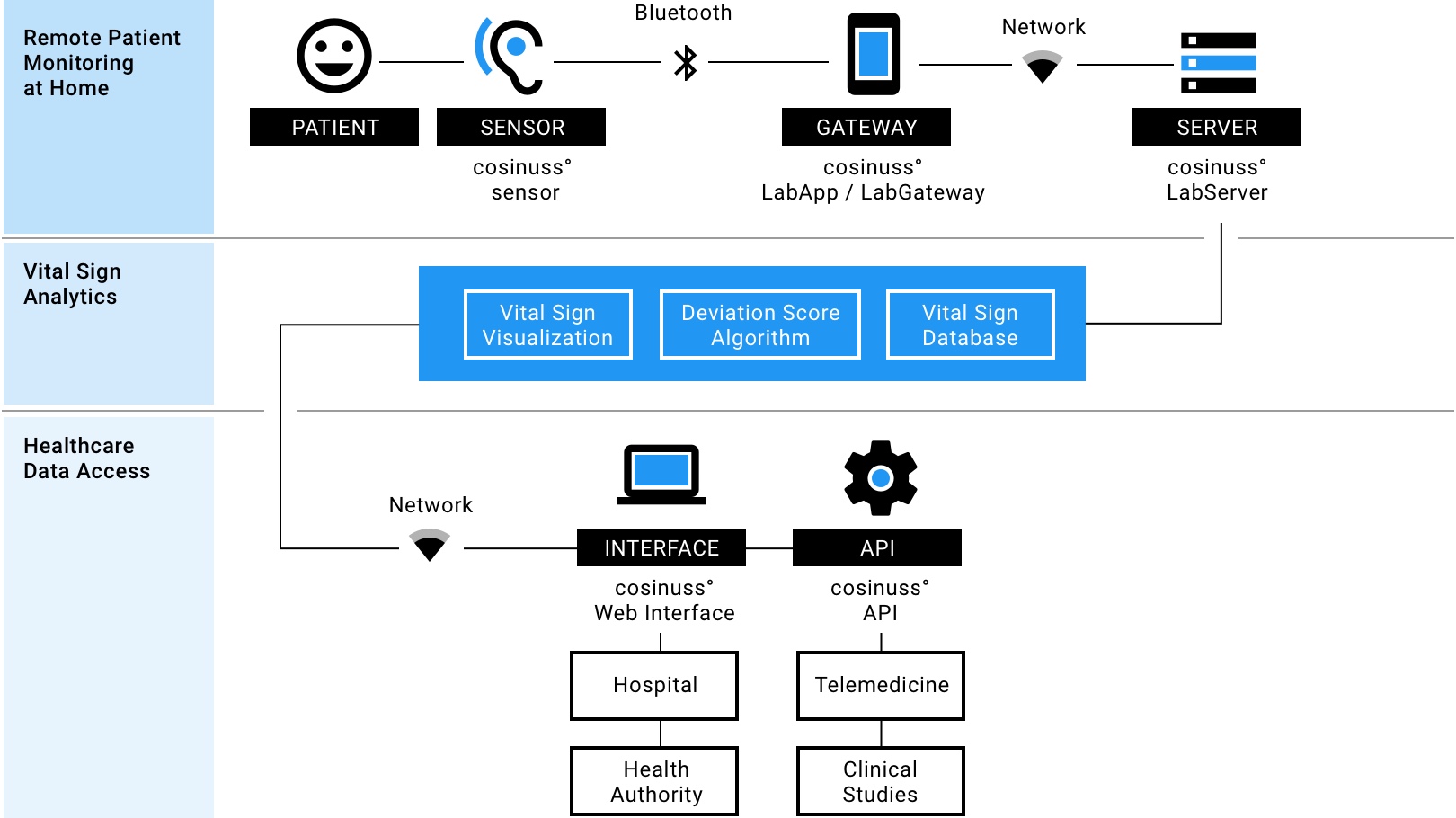 Fig. 1: Visualization of the cosinuss° Remote Patient Monitoring system (under development)
Addressing the current situation: Remote Patient Vital Signs Monitoring for COVID-19
Remote patient monitoring has become even more relevant during the current COVID-19 pandemic. COVID-19-patients are required to stay in home isolation unless their health status is deteriorating. These patients could be equipped with a cosinuss° in-ear wearable sensor. The measurements will be received via Bluetooth by the data-gateway, which can be a mobile app (cosinuss° LabApp) or a stand-alone device (cosinuss° Gateway) that is capturing and storing the transferred data. Most of the key vital parameters are going to be processed on the wearable itself. The pre-processed data will then be streamed to the cosinuss° Server.
The medical staff will be able to remotely monitor the health status of each patient via the cosinuss° Health Platform and take early action in case of clinical worsening, while preventing unnecessary patients' hospital visits. In this way a potential collapse of the healthcare system could be prevented as many people going to an emergency room or seeking doctors could be monitored or treated at home. Therefore, the cosinuss° RPM solution aims to enable an optimally working healthcare system, by reducing the number and length of hospitalizations. Exposure to the disease and the risk of infection for the medical staff can be minimized. It enhances financial viability and provides objective data for medical research. With our solution, patients will be assigned a more active role in their own treatment: They will learn more about their condition and improve their self-care skills.
The Conclusion
Supporting the healthcare system
Our solution, with the rapid advancement in telemedicine, will create an opportunity that makes healthcare more available and not only the COVID-19 pandemic more manageable by:
Eliminating unneeded hospitalization

Minimizing infection risk for healthcare professionals and patients

Improving risk assessment for patients

Enabling timely intervention

Continuous patient monitoring in home isolation
Stage of Development: Field tested
The cosinuss° remote patient monitoring solution has already been successfully tested and deployed in several studies, including at the University Hospital rechts der Isar, Munich (Telecovid), at the Großhadern Hospital of the LMU Munich (Digital Monitoring COVID-19) and at several other university hospitals in Europe. The focus was on monitoring COVID-19 patients in home isolation as well as during hospitalization. Thanks to the feedback received, we have already been able to optimize our RPM solution and now have a ready-to-use system. Further improvements in usability and algorithms are being implemented on an ongoing basis.
Selected references: Use of the cosinuss° RPM solution
Telecovid – Remote Patient Monitoring for COVID-19 | Klinikum rechts der Isar München / 2020 – 2021
Verwandte Forschungsarbeiten:

Wurzer D, Spielhagen P, Siegmann A, Gercekcioglu A, Gorgass J, et al.: "Remote monitoring of COVID-19 positive high-risk patients in domestic isolation: A feasibility study". PLOS ONE 16(9), 2021.
M. Baldinger, et al.,"TELECOVID: Remote Vital Signs Monitoring of COVID-19 Risk Patients in Home Isolation With an In-Ear Wearable" in IEEE Pervasive Computing, vol. 20, no. 02, pp. 58-62, 2021.

Digital Monitoring – COVID-19 | Klinikum Großhadern LMU München / 2021
Telemedicine with objective data – RPM | University Hospital in Denmark / 2021
A Closer Look
Frequently Asked Questions about Remote Patient Monitoring
To get a better understanding of remote patient monitoring it is useful to define the terms of "telehealth" and "telemedicine" first.
Quellen / References