Continuous improvements is our goal. The base of these improvements for us is you, the user.
We try to take your place and develop exemplary cases where we try to imagine how we could help you solve your problems, expand your business or improve it. In this post, read our thoughts on how we think we could enable clinics to classify more patients for Fast Track surgery.
Tell us what you think? Professional feedback on how cosinuss° could help your daily work is very much welcome!
If you would rather like to test our devices or system live to see how it supports you? Contact us for a free user test or meet us at MEDICA 2019 in Düsseldorf!
Definition: Fast-Track Surgery
Fast-Track surgery is a multimodal approach in which doctors and patients work intensively to make the recovery phase after an operation as less stressful as possible by minimizing external interventions and stimulating the body's self-regulating forces. A surgery is not an everyday event for the patient, but a stressful situation. The body reacts to this with the release of stress hormones, which can have an unfavourable effect on the healing process.
This is particularly important if previous illnesses such as calcification of the blood vessels, diabetes, obesity, heart diseases or shortness of breath are already present. Fast-Track surgery consists of several components that have to be optimally adapted to each other:
Minimally invasive surgical intervention into the organism
Reduction of stress
Aligned diet
Optimal pain treatment
Early mobilization
The early mobilization of the patients, if possible already on the day of the surgery, has a crucial importance for the success of the quick recovery of the patients.
Hospitals, physiotherapists
To be able to classify as many patients as possible for Fast Track surgery. This means that patients who require continuous monitoring should also be able to benefit from the concept. For this continuous monitoring of vital signs during the mobilization of the Fast Track patients is needed.
Enabling the mobilization of patients and simultaneous, reliable monitoring of as many vital parameters as possible.
Why the c-med° alpha and the Health Platform are the right solutions?
The c-med° alpha is the only wearable sensor that provides four of the five vital parameters, including the body core temperature. The measurements are performed with a single device in the ear. In combination with the cosinuss° Health Platform it is possible to completely interconnect a ward and ensure monitoring and transmission of the vital parameters.
Advantages for the clinic:
Location-independent and precise monitoring of vital signs in real situations
Non-invasive and mobile measuring method
Approved medical device developed according to Gold Standards.
Automatic entry of the data into the clinical database.
Pseudonymised and data protection-compliant surveys
Decentralized communication with test persons
Significant cost savings through fewer clinical days for more patients
Easy and comfortable handling
Motivation, feedback and sense of security for the patients
Possibility for faster recovery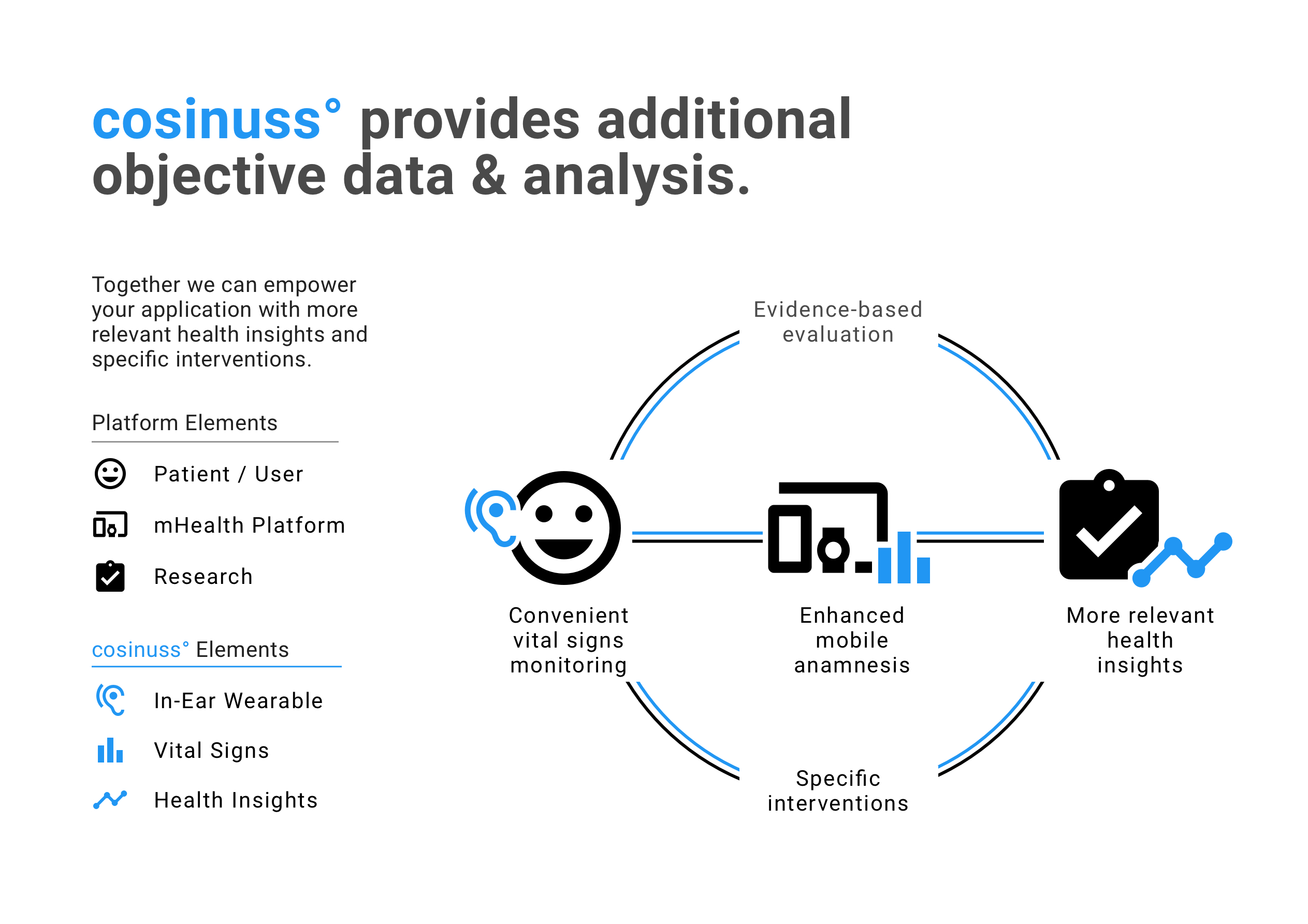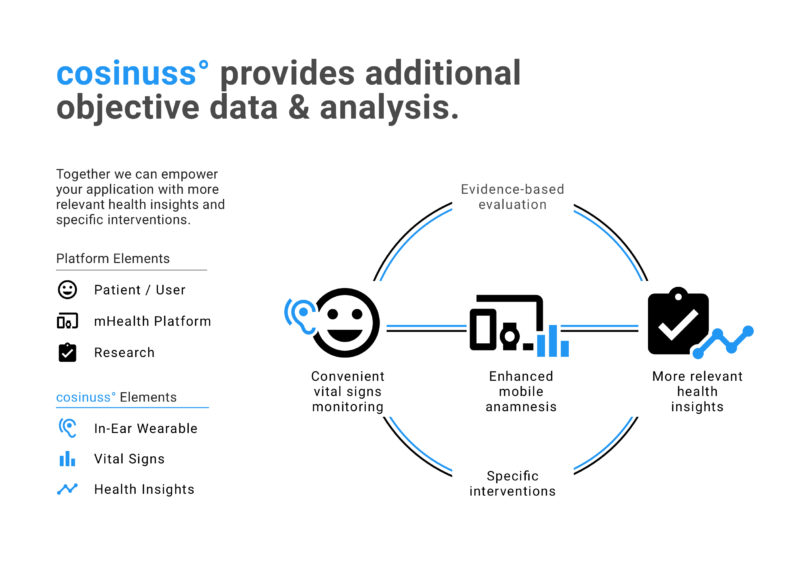 Further fields of application:
Rehabilitation centers, physiotherapists, elderly care, mobilization & exercise for COPD, obesity, cardiovascular diseases, diabetes.
Kontakt – Clinical Applications