Schedule: February – November 2021
Language: English, German
Locations: Online, USA, Germany
The importance of telemedicine and health technology has grown worldwide, particularly in the last year. For us, international exchange and cooperation with companies and research institutions is therefore very important, especially in this context. This applies in particular to countries such as the USA, where numerous innovations in the field of health technology are emerging. We are therefore very pleased to be one of the nine teams, together with the Fraunhofer Institute ISST, to participate in this year's "InnoHealth USA 2021" campaign.
Goal: Strengthening cooperation and innovation
The aim is to strengthen the scientific dialog and the economic network between Germany and the USA in order to promote innovations in the fields of digital diagnostics and smart sensors. Project developments with U.S. research institutions and companies from the healthcare sector are to be initiated and strengthened.
Multifaceted program
The program extends over several months and offers both virtual events and reciprocal on-site visits. For nine selected German Research-SME-Tandems, the Fraunhofer-Gesellschaft offers a delegation trip to the U.S. (Matchmaking Tour) and a workshop on research project funding and financing opportunities (Idea2Project Workshop). Conversely, potential U.S. partners are offered a trip to Germany (German R&D Tour) to learn more about German health research. In addition, a webinar series will be held between December 2020 and May 2021 under the motto "Well informed to tap the U.S. healthcare market".
One of the highlights of "InnoHealth" is the five-day matchmaking tour to the U.S. The nine selected German Research-SME-Tandems will hold visits there to companies, universities and research institutions focusing on digital health in the Silicon Valley/Greater Bay Area and the Boston/Cambridge area (June 7-11, 2021).
Our research project with the Fraunhofer Institute ISST
Together with the Fraunhofer Institute for Software and Systems Engineering (ISST), we have submitted our project "H-EAR SIGNS – Health monitoring based on body signals from a novel in-ear sensor and AI". This deals with structured, sensor-based data acquisition on the long-term course of diseases and predictive modeling of the disease process. On the one hand, the aim is to identify risk factors. On the other hand, an optimal adaptation of treatment regimens should take place on the basis of the recorded vital parameters. The focus is on cardio-respiratory data, body temperature and body movement parameters in conjunction with automated algorithms for pattern recognition. In addition, the secure and standardized transmission of sensor data from the patient's ear to medical personnel is a key issue. Digital health applications that support international standards such as HL7 FHIR and IHE play an important role here.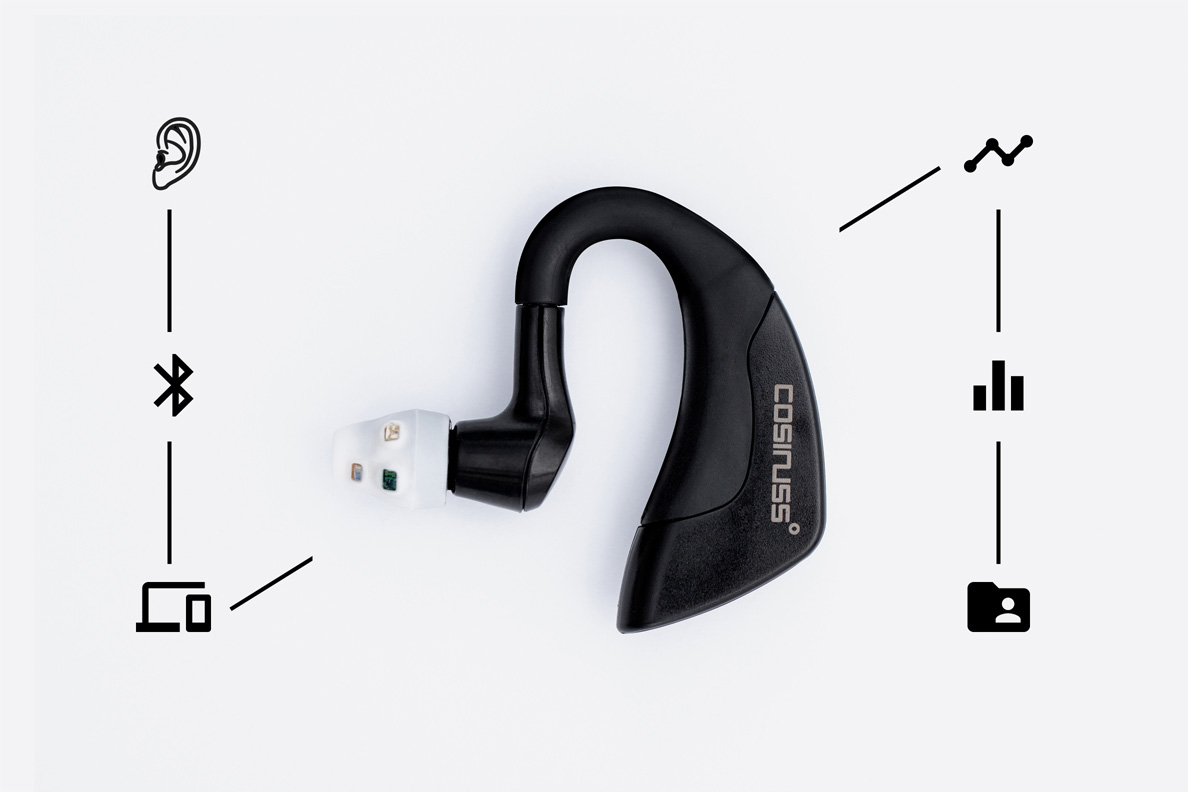 Our Research-SME-Tandem is represnted by M. Sc. Salima Houta (Research Associate, Digitization in HealthCare Department) and Dr. Johannes Kreuzer (CEO, Cosinuss GmbH).
More information about our SME-Tandem and the project you can find here: H-EAR SIGNS
More about InnoHealth USA 2021
"InnoHealth USA 2021″ is initiated and funded by the Fraunhofer-Gesellschaft and the German Federal Ministry of Education and Research (BMBF). As part of the "Research in Germany" initiative, the Fraunhofer-Gesellschaft is implementing measures to support collaboration between small to medium-sized enterprises (SMEs) and scientific institutions (universities and research institutes). Funding is provided by the BMBF. "InnoHealth USA 2021" is also supported by the Federal Ministry of Economics and Technology's Export Initiative for the Healthcare Industry and by Germany Trade and Invest (gtai), which provides information about opportunities and risks in foreign business.
We are very much looking forward to the exciting international exchange that will take place at "InnoHealth USA 2021"!