Press release: Global hidden champion in medical technology
Munich, June 26, 2023 – During their visit to cosinuss°, Bavarian Minister of Health Klaus Holetschek, Member of the Bavarian Parliament, Andreas Lorenz, Member of the Bavarian Health Committee, Member of the Bavarian Parliament, and Claudia Küng, Spokesperson for the CSU parliamentary group and Managing Director of Health Care Bayern e.V., were able to gain an impression of the innovative technology for monitoring vital parameters and its potential impact on the healthcare system.
After the welcome by the two CEO Greta Kreuzer and Dr. Johannes Kreuzer as well as the cosinuss° team, insights into the company's development were given. As a "hidden champion" of medical technology, the company has now achieved numerous successes worldwide in the monitoring of vital parameters with its in-ear sensors.
In the subsequent round of presentations and discussions, the invited project partners shared their experiences and visions with the application of cosinuss° technology. Present for the application areas of mountain rescue, emergency medicine and in-patient monitoring were Dr. Boris Buck, specialist in general medicine and medical coordinator of Martin Flugrettung, Dr. med. Stefan Bremer, specialist in surgery, vascular surgery and emergency medicine, and PD Dr. med. Roman Schniepp, specialist in neurology. In the past few years, the in-ear sensors have been used successfully in various pilot projects and studies. In particular, the small and lightweight design of the sensor and its ease of use as well as the reliability and accuracy in recording vital parameters were convincing. In addition, thanks to its proximity to the brain, the ear offers decisive advantages over other measurement sites: even under extreme conditions, the measurement of vital parameters is still possible and provides physicians with valuable information about the patient's state of health.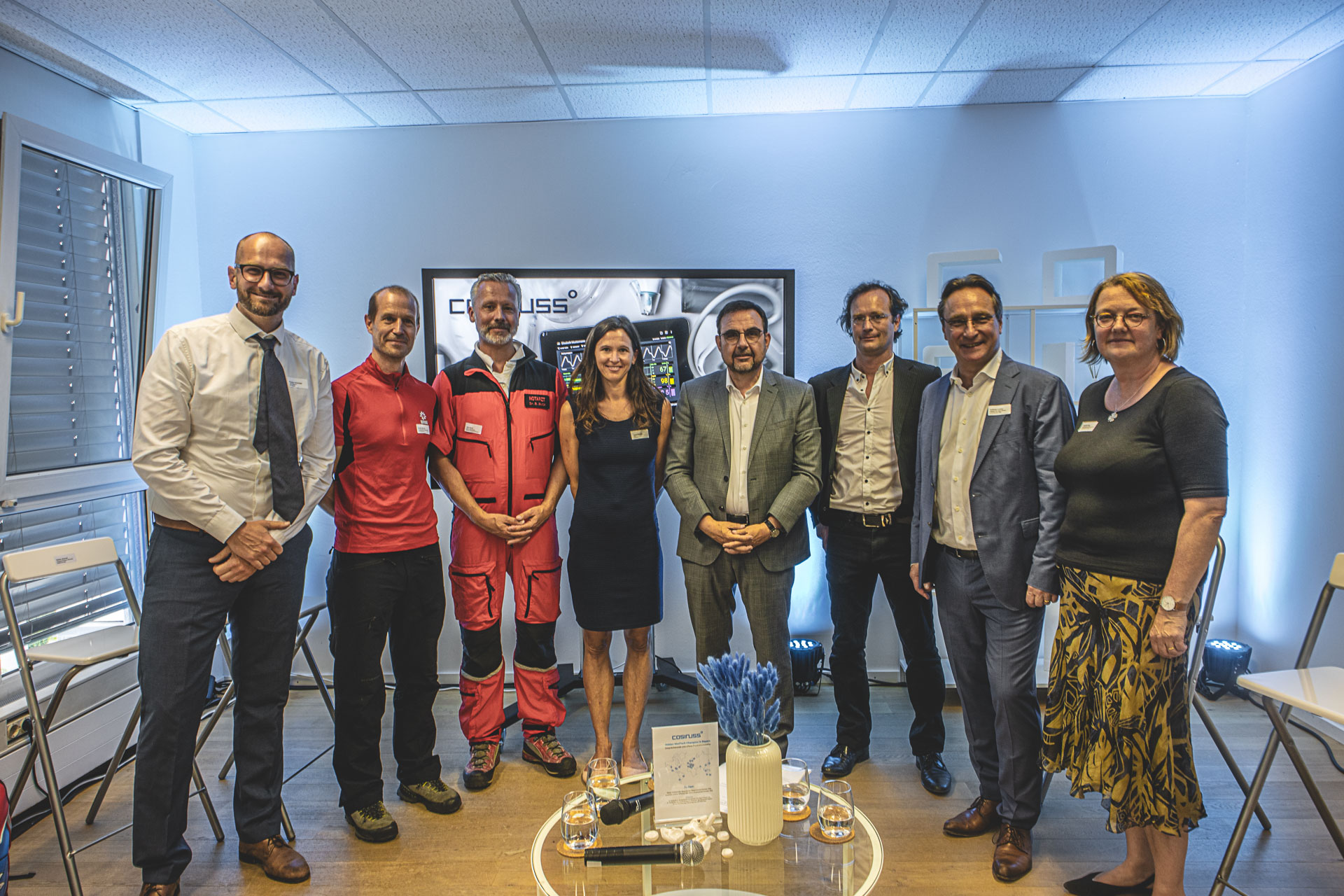 Klaus Holetschek's visit was rounded off by a tour of the company's own production facility. Here, the Minister of Health was given the opportunity to get an idea of product development and the specially developed production process, which contributes to a large extent to maintaining cosinuss°'s competitive edge.
Klaus Holetschek was positive about the potential of the technology to meet the current challenges in the healthcare sector. The Minister emphasized:
"In Bavaria, we need innovative and globally respected companies in medical technology and in the healthcare sector as a whole. The development of monitoring programs for mobile and cost-efficient monitoring of vital parameters, such as breathing or cardiovascular functions, is evidence of Bavarian innovative spirit. This is because it can relieve the burden on various areas in medicine and also in nursing."
Particularly in outpatient medicine and in post-operative follow-up care, added value can be created for patients and caregivers, and resources can be conserved – so that "blind spots" in patient monitoring can be eliminated and patients can be well cared for and treated in the best possible way.
Download press release
Press contact