14 – 17 November 2022
10:00 – 18:00 each day
Düsseldorf, Germany
Hall 12, Booth D33
Remote patient monitoring takes root
It's 2022 and interest in remote patient monitoring (RPM) has increased due to technological advances, pandemic-related increases in virtual care, and expanded reimbursement.
cosinuss° Health platform solution
It is becoming increasingly clear what the clinical benefits are and which patients will benefit from RPM. cosinuss° Health is making a name for itself as a promising tool for truly realizing the vision of remote monitoring in chronic and infectious diseases.
The cosinuss° Health total solution reduces all core body temperature, heart rate and blood oxygen saturation (SpO2) measurement devices to one. This reduction increases both patient satisfaction and the interoperability of data acquisition. A data link including quality assessment of measurements and transmission reliably closes the gap between patients and healthcare.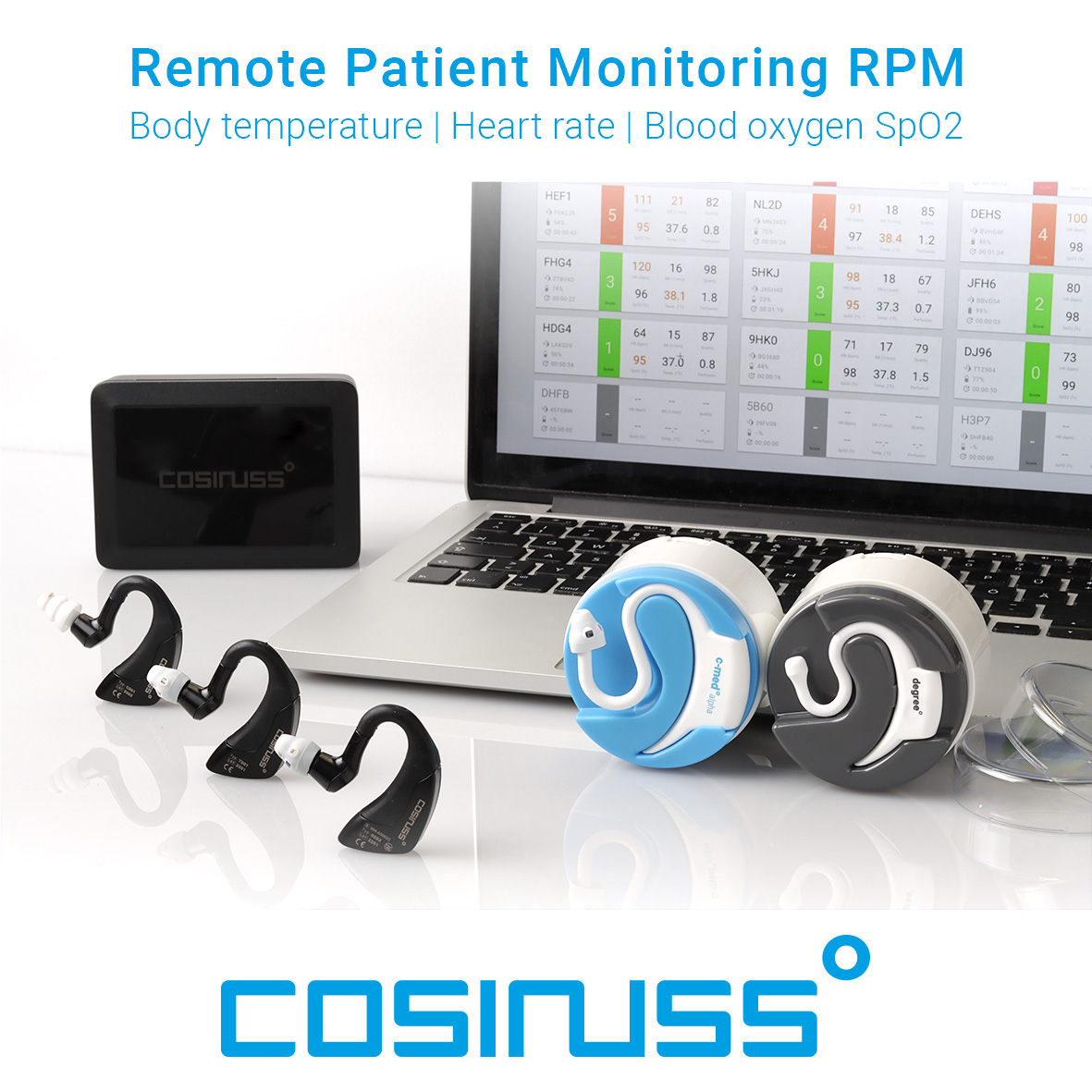 Automated measurements result in significantly less effort for the monitoring physician and at home – which increases motivation on both sides. All relevant vital parameters are continuously transmitted at the desired interval and fully digitally documented.
cosinuss° presents its platform solution: cosinuss° Health within the product category "patient monitoring / measuring stations". The c-med° alpha and other of our in-ear sensors are already successfully used in several studies for remote patient monitoring. We are therefore very pleased to report on our experiences and findings!
Keynote Speaker
Remote Patient Monitoring Is Key To Fight Pandemics
Wednesday, November 15
15:00 – 17:00
Hall 12, Booth 12E37
Johannes Kreuzer, CEO of cosinuss° will be a speaker at the 9th MEDICA CONNECTED HEALTHCARE FORUM and share our practical experience in the field of Covid Monitoring (Tele-COVID – Remote Patient Monitoring for Covid-19) with in-ear sensors.
Wearable Technologies
cosinuss° will be represented together with over 40 other well-known exhibitors under the large joint stand of WT | Wearable Technologies AG.
There the exhibitors will show their latest innovations and developments in the field of wearables, some of which are already on the market today and some of which will find their way into our everyday lives in the near future. The main topics of this year's WT | Wearable Technologies joint booth are:
Mobile monitoring and patient care
Wearables for chronic diseases and mobility problems
Treatment and prevention of injuries with wearables for rehabilitation
Wearables for sports, fitness and wellness
New devices for women and newborns, family planning and pregnancy
Platforms, materials, sensors and distribution
More about MEDICA
MEDICA is the world's largest event in the medical industry. For over 40 years, several thousand exhibitors from more than 50 countries have come together in Düsseldorf. In addition to renowned personalities from business, research and politics, national and international experts and decision-makers from the medical industry are also present.
We are very much looking forward to exciting discussions at this year's MEDICA in Düsseldorf!