Study protocol (beta)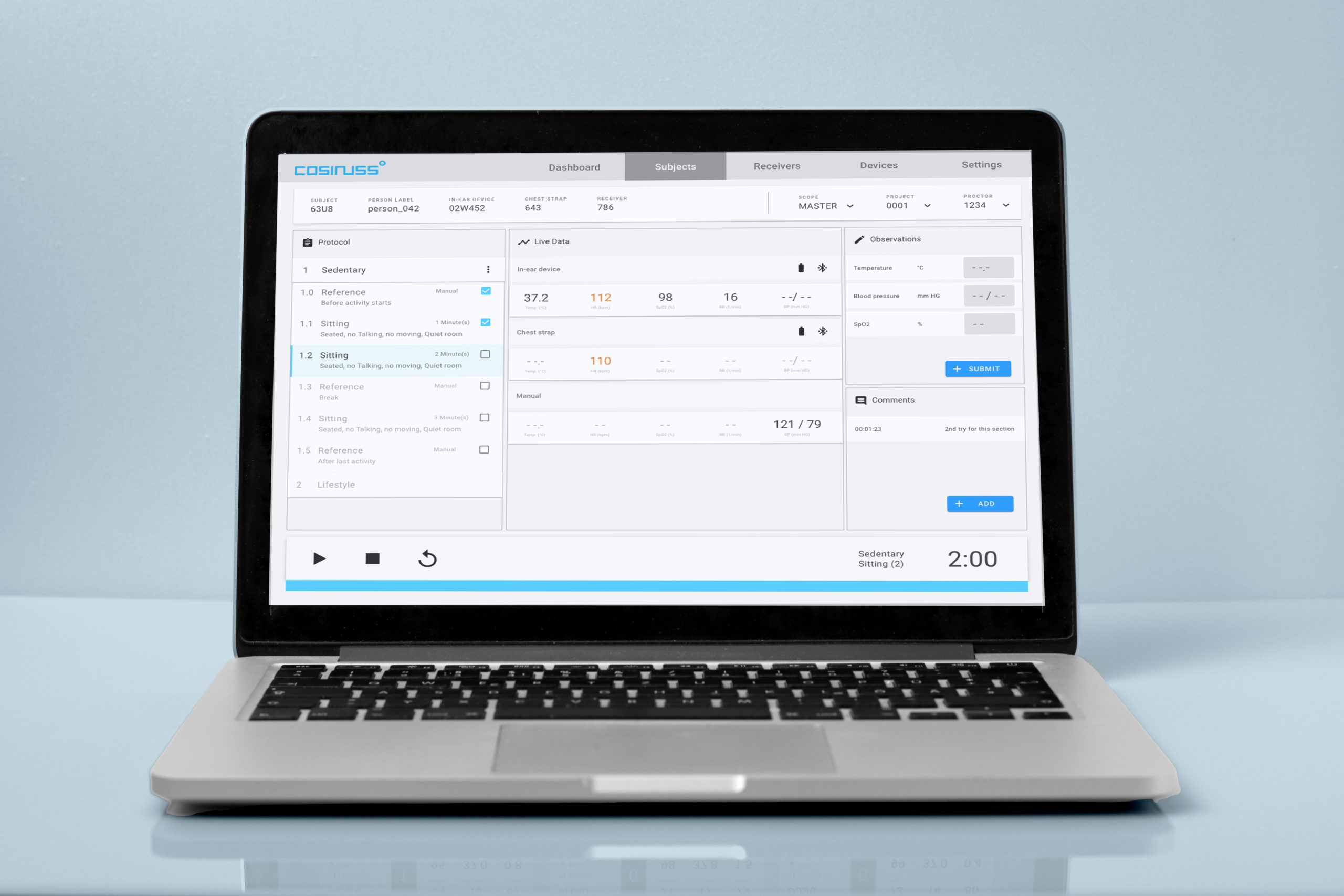 Assisted studies – cosinuss° Health Platform
Studies or comparative measurements according to a specific study protocol can be set up and carried out individually with the aid of cosinuss° remote monitoring technology and the special study interface.
All steps of the study protocol can be reproduced in the user interface and performed step by step with each subject. Third-party measurement devices can be integrated for reference measurements or the values can simply be entered manually. Observations at each step of the study can be saved by entering comments at the appropriate point in the user interface. In this way, the evaluation is simplified as it is immediately available digitally and each protocol step can be clearly identified.
The overall course of the study can also be simplified by having an overview of the study population, as the additional information on the subjects can be easily used to filter the data.
Features
User accounts and roles
Access to the interface is based on user accounts and roles to define permissions.
Device compatibility
The following cosinuss° products can be connected to the study protocol:
In-ear sensors with access to all raw data (including SpO2, pulse rate, PPG, acceleration data): cosinuss° One, cosinuss° Two, c-med° alpha
External devices:
Polar H10 chest strap (including heart rate, heart rate intervals, raw ECG signal, raw acceleration data).
Process validation
The study protocol can only be started if individually defined mandatory data has been entered in advance. In addition, the start of a recording sequence is only possible if all required devices are connected and Bluetooth data arrives.
Traceability & version history
Observations that have already been entered are marked as obsolete when corrected or reworked, but remain part of the log. The new or corrected observation replaces the obsolete observation.
Status overview
The overview of the log shows the current status. In this way, it is easy to record which steps have already been completed at a particular point in time.
Data overview
The data monitor clearly displays all vital signs from all connected devices.
Comment function
Own comments can be entered into the protocol at any time and are part of the Case Report Form (CRF) as well as available in the API.
Data validation
A basic validation of the entered vital signs takes place. For example, a warning message is generated if the reference temperature measurement shows a significant deviation from the measured temperature of the sensor.
Timer
A timer displays the current recording sequence as a countdown. The timer pauses automatically when the connection of one of the required Bluetooth devices is disconnected.
Stop button
The stop button is used to end the recording sequence. This only happens when the entire time period of the sequence has elapsed (any disconnections are taken into account).
Download Case Report Form (CRF)
After the study is completed, a CRF can be downloaded as a PDF with all work steps and time stamps.
Data export
All data, log steps and events can be downloaded via the API.