User Interface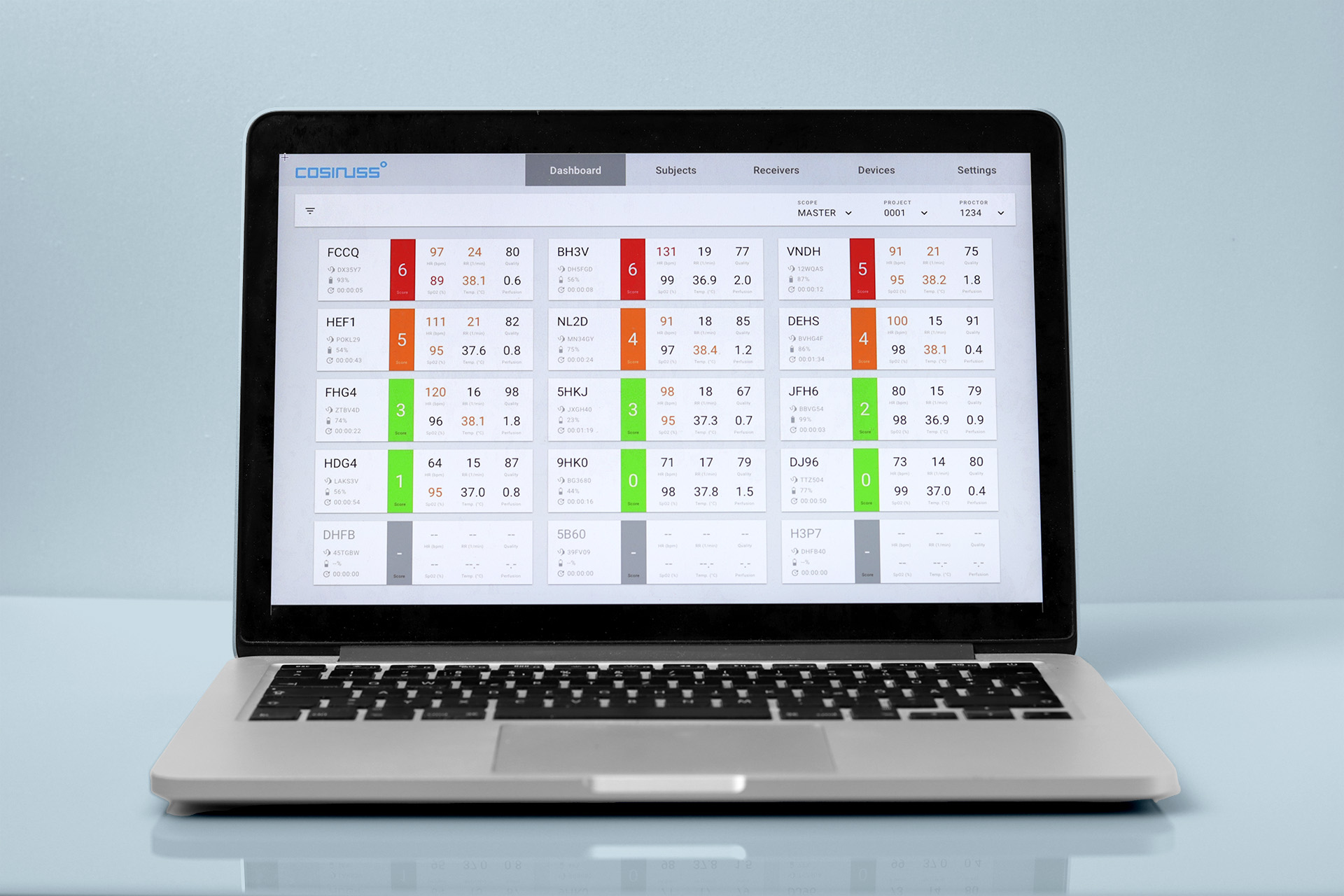 User Interface – cosinuss° Health Platform
The web-based user interface simplifies access and visual representation of the recorded vital signs data. Access is password-protected and the vital signs data is pseudonymized. Numerous individual configuration options for recording and transmitting vital signs data are possible. This makes it much easier to adapt the cosinuss° remote monitoring technology to any specific application.
Features overview
Data visualization
Dashboard: Overview of the vital signs of all monitored persons.
Detail view: Detailed data view of every single measurement point for each person.
Data management
Measured persons: Create new persons and link them to devices.
List views: Overview of all persons, devices and projects.
Configuration of measurements: Adjustment of measurement interval and duration.
User roles: Management of different access rights.
Data visualization
Dashboard
The dashboard is the central information center of the user interface for vital signs monitoring. In the dashboard, the vital signs data of all individual subjects can be clearly tracked. A tiled overview displays the current health status of each subject, all available vital signs, all quality indices, and information about the battery and connection status of the in-ear sensors used.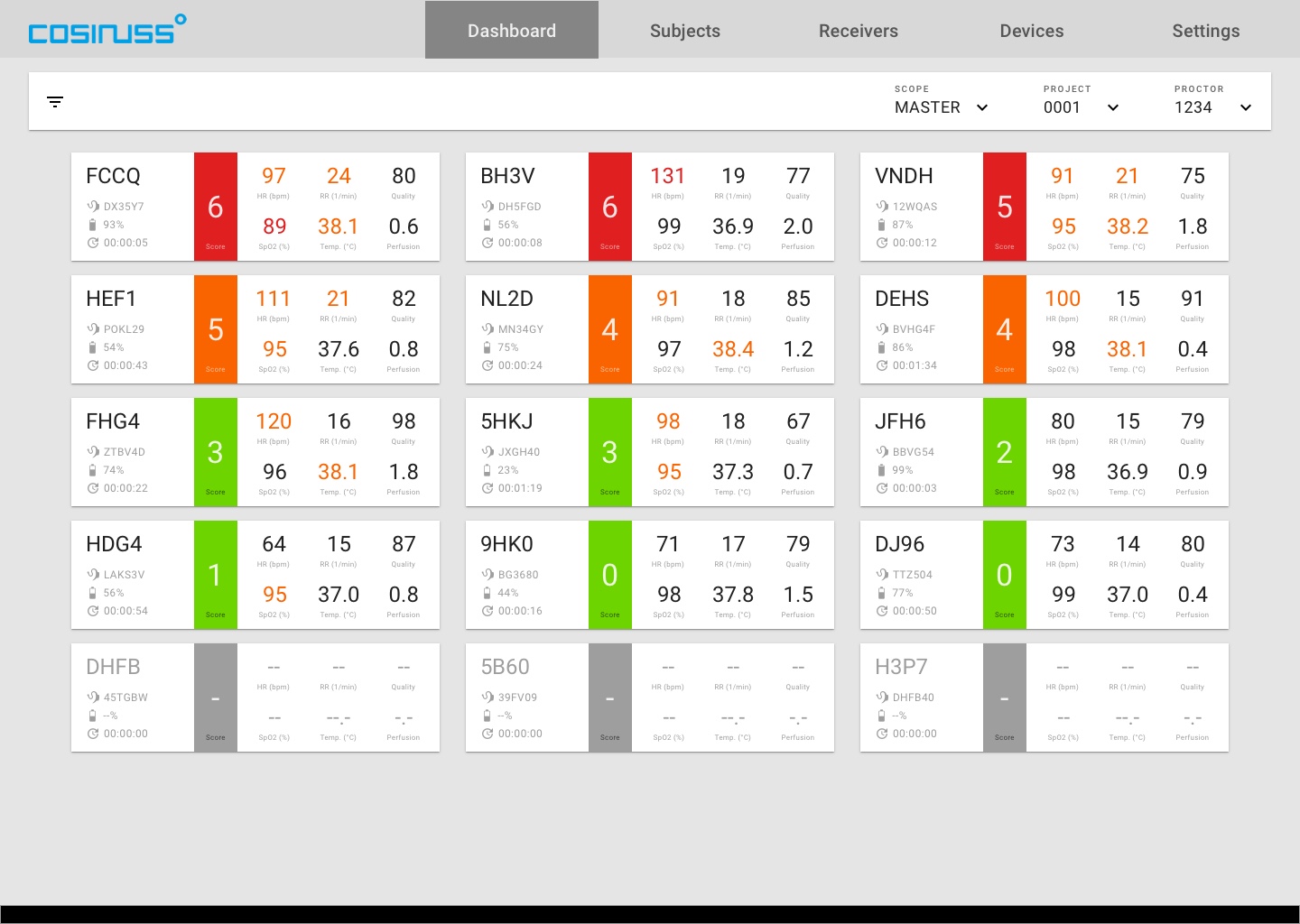 Detail view
A detailed representation of the individual parameters including all PPG raw data over the entire time course of the measurements can be found in the respective detailed view. Displayed in an interactive graphical representation, the evaluation of the data is visually accessible and intuitive. Additional information on all devices used and an automatic documentation of all server activities are also listed here.
Data management
Data subjects
New data subjects, i.e. pseudonymized persons on whom measurements are performed, are created with a single click in the user interface. The assignment of in-ear sensors and transmission devices or even reference devices to data subjects as well as the assignment of these to projects is easily done by entering unique device serial numbers and selecting the corresponding project.
Optionally, additional information on a pseudonym can be entered, which facilitates the statistical evaluation of the data according to certain definitions of user groups. All data records are thus as unique as necessary and as anonymous as possible.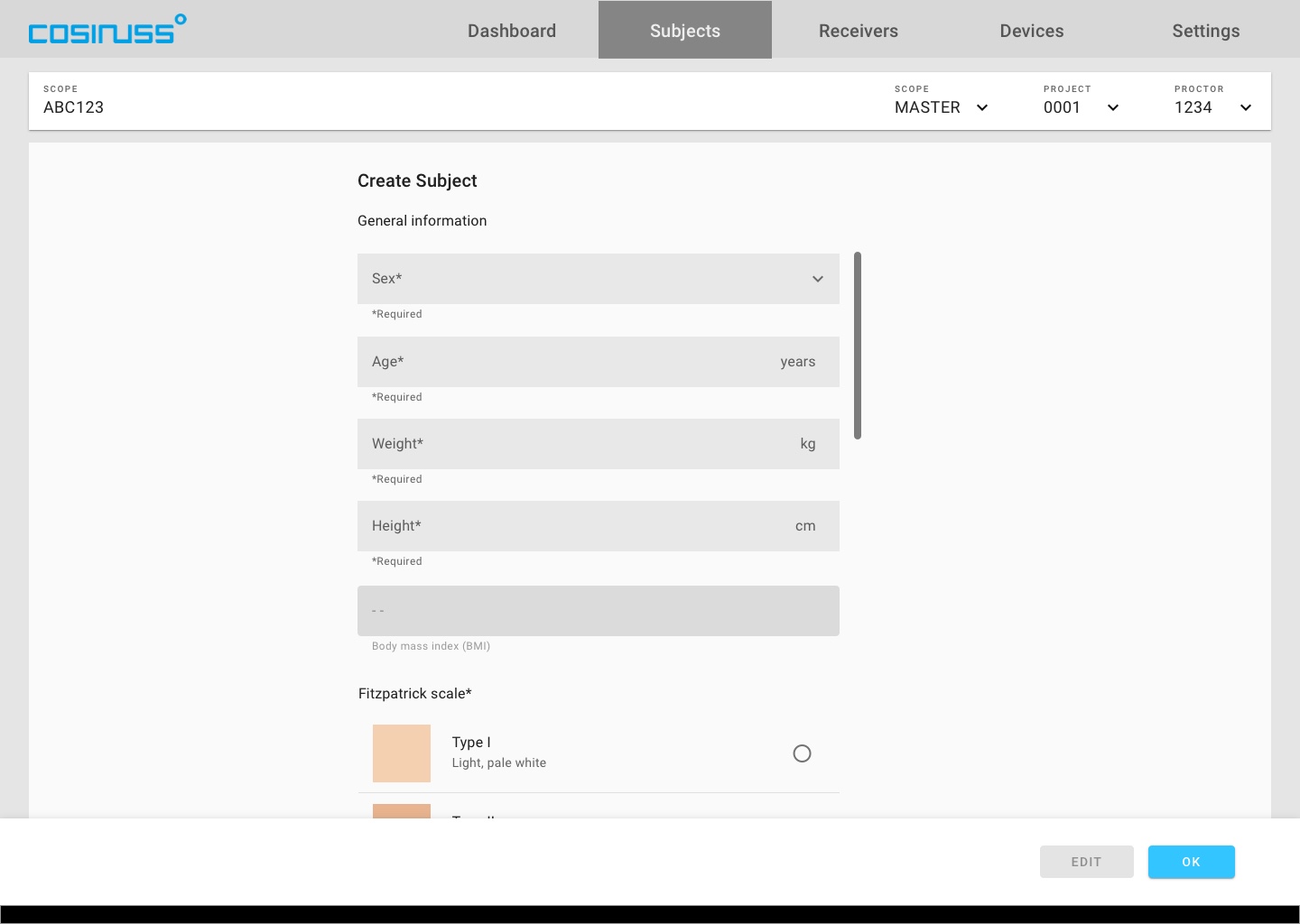 List view
Interactive list views of all created data subjects and used devices provide a quick overview of the monitoring project. Via direct access, one can immediately jump to the respective details or perform actions such as recording start, download or reconfiguration.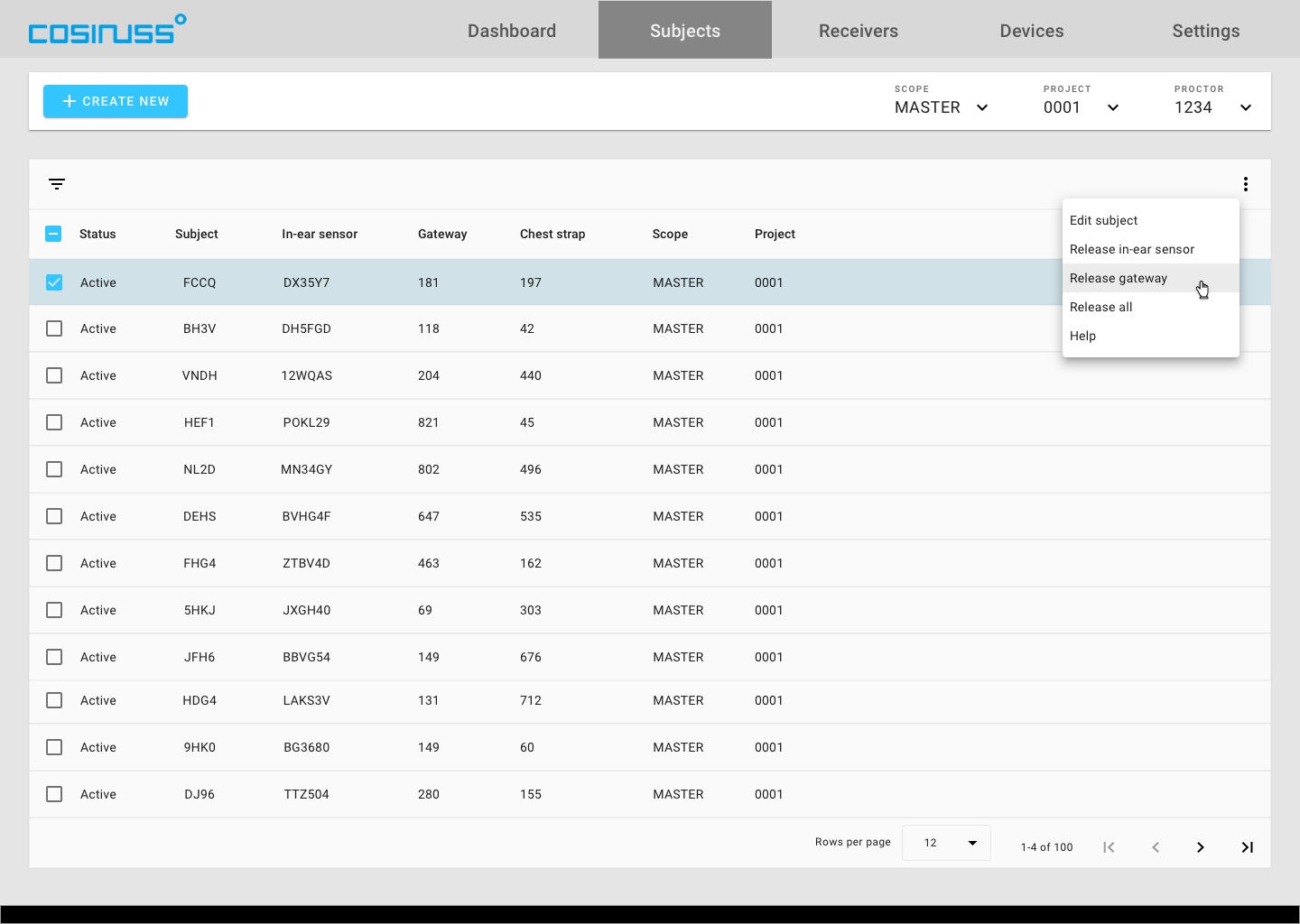 Measurement configuration
All measurements can be adapted to the respective project requirements by, for example, freely adjusting the measurement duration and measurement intervals. From highly detailed live monitoring of PPG raw data to resource-saving interval measurements of individual parameters, cosinuss° remote monitoring technology can be optimized down to the smallest detail.
User roles
Different user roles with different access rights enable GDPR-compliant management of the collected data.
Cloud Server – cosinuss° Health Platform
All recorded data of a user is collected in an account which can be divided into different projects and managed with the help of different user roles. All data of all users is stored and processed in a structured manner in databases on special servers in Germany.
Standardized interfaces (REST and FHIR) and a configurable CSV export of individual data records or the entire project make further processing of the data efficient and flexible.
Secure server architecture
Our servers are located in Germany. Comprehensive protective measures ensure an extremely high level of virtual and physical security (including fire protection, access controls, protection against hacking attacks). This makes the servers ideally suited for the storage and management of medical data.
Certified according to DIN ISO/IEC 27001
Redundant power supply systems
Redundant data storage in different data centers
Energy-efficient cooling
State-of-the-art early fire detection system with direct connection to the local fire department
State-of-the-art security measures and access controls
DDOS protection measures
Suppression of botnet communication
Climate-friendly: Power supply from 100% renewable energies (hydropower)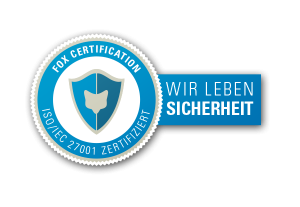 Selected references
Telecovid – Remote monitoring of patients with COVID-19 | Clinic rechts der Isar, Munich / 2020 – 2021
Related research projects:
Wurzer D, Spielhagen P, Siegmann A, Gercekcioglu A, Gorgass J, et al.: "Remote monitoring of COVID-19 positive high-risk patients in domestic isolation: A feasibility study". PLOS ONE 16(9), 2021.
M. Baldinger, et al.,"TELECOVID: Remote Vital Signs Monitoring of COVID-19 Risk Patients in Home Isolation With an In-Ear Wearable" in IEEE Pervasive Computing, vol. 20, no. 02, pp. 58-62, 2021.
DiAssCo – Digital monitoring – COVID-19 in long-term follow-up | Clinic Großhadern LMU Munich / 2021
Telecovid-Innsbruck | University of Innsbruck (Prof. G. Pölzl) / 2021
Mountain Rescue | Feasibility study of the Ludwig-Maximilians-University Munich together with the Mountain Rescue Bavaria and the Center for Safety and Training (Mountain Rescue Foundation).
INVADE – Survival prospects of heart attack patients by mobile measurement of cardiovascular risk factors | Klinikum rechts der Isar of the Technical University of Munich, Prof. Dr. Georg Schmidt.
Epitect – Nursing support for people with epilepsy through innovative ear sensor technology (EPItect) | University Hospital for Epileptology Bonn, Fraunhofer Institute for Software and Systems Engineering ISST, Clinic for Neuropediatrics at Kiel University, North German Epilepsy Center in Schwentinental-Raisdorf, cosinuss° GmbH, Munich / 03/16 – 02/19
MOND – Mobile, smart neurosensor system for the detection and documentation of epileptic seizures in everyday life | Fraunhofer Institute for Digital Media Technology IDMT, Institute Section Hearing, Speech and Audio Technology HSA in Oldenburg / 04/20 – 09/22
CO-SI-ONKO | Feasibility study for the collection of self-report and vital data from patients undergoing chemotherapy and study for the early detection of inflammatory processes. Women's Hospital, Klinikum rechts der Isar Munich.