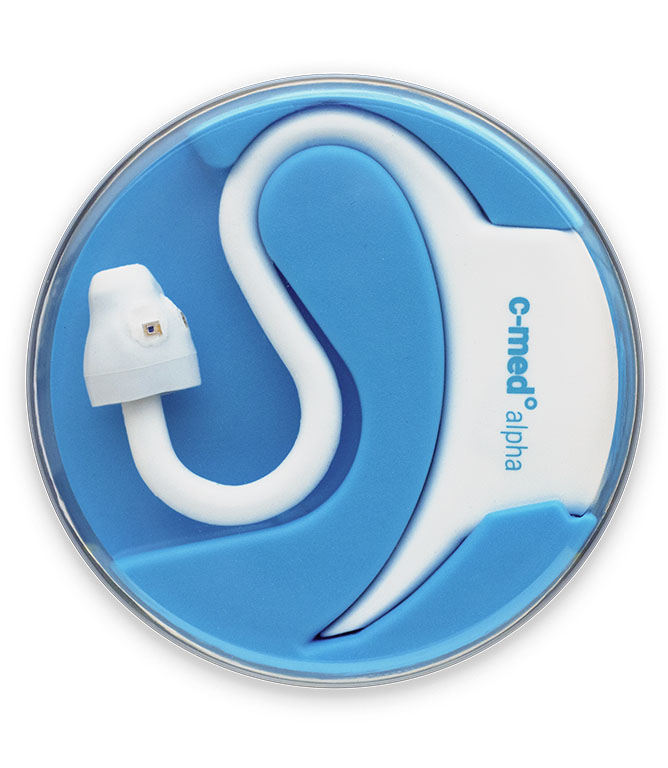 Integrate quality rated vital signs streamed from one single in-ear device.
Quality rated vital signs
Vital Signs
The c-med° alpha is a class IIa* medical measuring device that generates continuous data streams of three important vital signs:
Core Body Temperature
Heart Rate
Blood Oxygen Saturation (SpO2)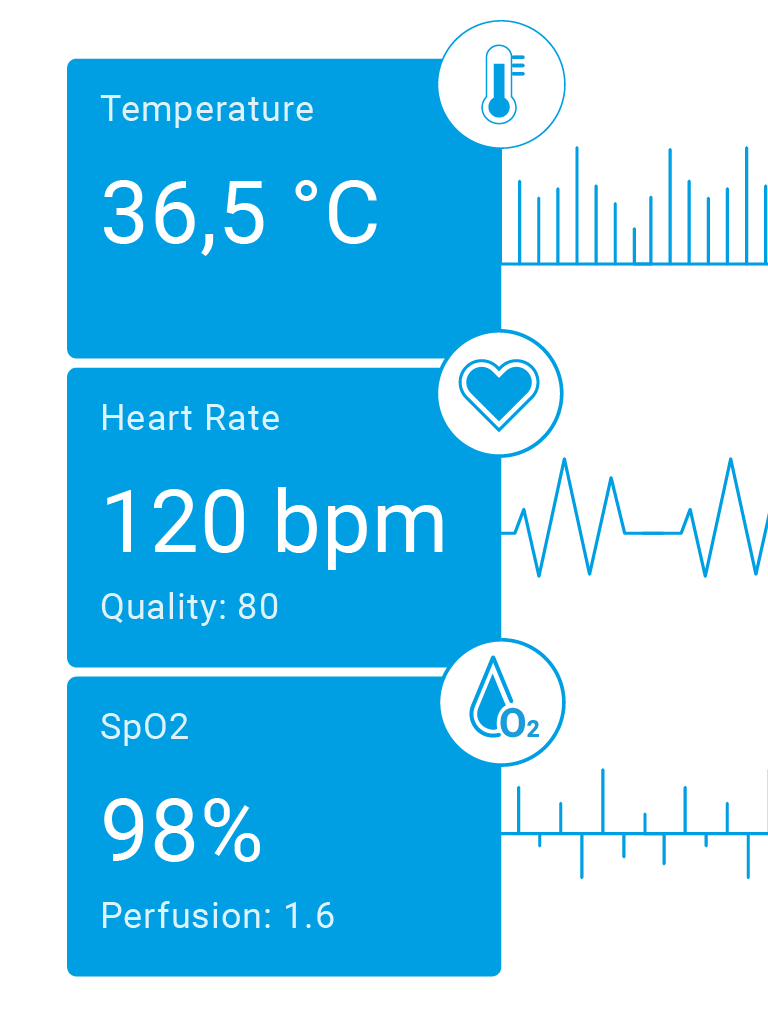 Two-in-one device
The c-med° alpha is a wearable sensor fusion of two frequently used medical measuring devices: Thermometer + Pulse oximeter.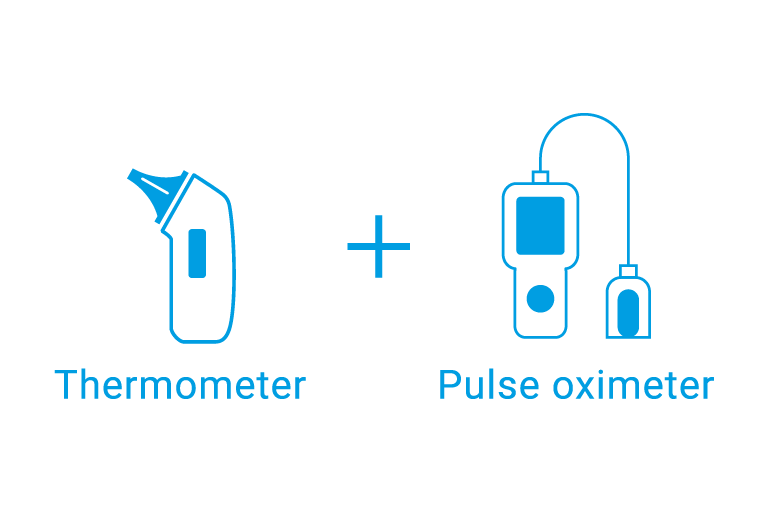 Quality rated
Focusing on the generation of reliable data streams, unique algorithms detect and flag invalid sequences in vital signs data. Thus you can see at any time whether a measurement is to be trusted or not. Heart rate and SpO2 are accompanied by their own quality ratings, the Quality and Perfusion, turning mobile vital signs into data for decision making.
Raw data is acquired in the outer ear canal and is then processed on the device itself. The calculated vital signs data is transmitted via Bluetooth 5.0 .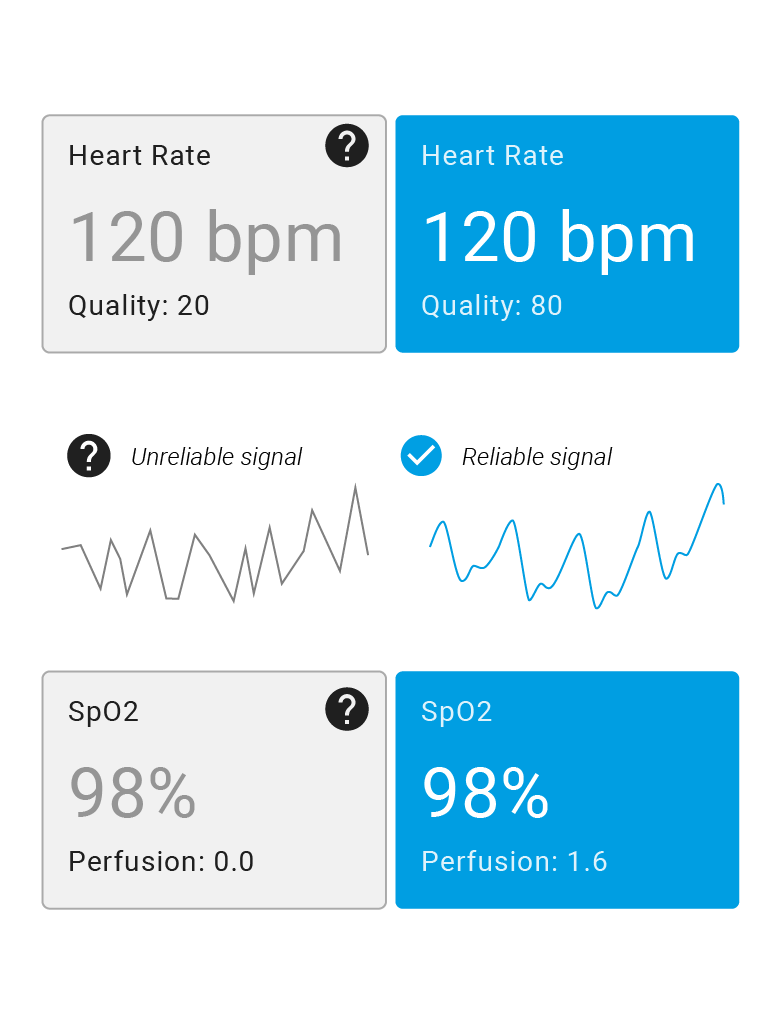 Connecting to the Internet of medical things (IoMT).
Wherever and whenever – the vital signs data acquired can be seamlessly integrated into any IT-ecosystem with full transparency allowing you to access, further process and act in real-time.
The Bluetooth standard services offer an easy and safe integration for the data stream including three calculated vital signs and device information needed. With that, the c-med° alpha offers a wireless data transmission of vital signs data in compliance with medical standards. An additional custom Bluetooth service enables advanced characteristics such as high-resolution data streaming and individual device configuration on the fly.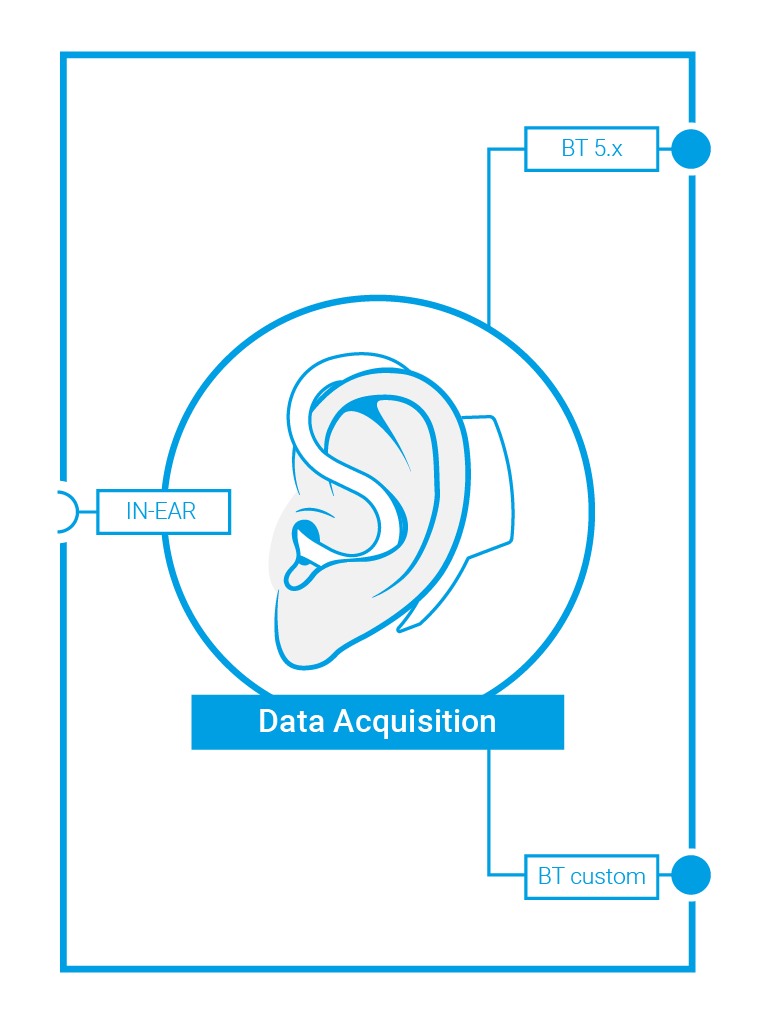 Infrastructure

cosinuss° IoMT
A full IoMT infrastructure or parts of it can be provided by cosinuss° as well: The cosinuss° LabSystem consists of a gateway solution, a server, additional analytics, a web interface as well as different standardized interfaces.
Selected References
Transform medical care with connectivity – COVID-19 | University Hospital in Munich / 2020 – 2021
Related research articles:
Wurzer D, Spielhagen P, Siegmann A, Gercekcioglu A, Gorgass J, et al.: "Remote monitoring of COVID-19 positive high-risk patients in domestic isolation: A feasibility study". PLOS ONE 16(9), 2021.
M. Baldinger, et al.,"TELECOVID: Remote Vital Signs Monitoring of COVID-19 Risk Patients in Home Isolation With an In-Ear Wearable" in IEEE Pervasive Computing, vol. 20, no. 02, pp. 58-62, 2021.
Full recovery from intensive station to home – COVID-19 | University Hospital LMU in Munich / 2021
Individualized patient care – EPILEPSY | University of Bonn / 2016 – 2022
Gait Classification | C. P. Burgos et al., "In-Ear Accelerometer-Based Sensor for Gait Classification," in IEEE Sensors Journal, vol. 20, no. 21, pp. 12895-12902, 1 Nov.1, 2020.
Telemedicine with objective data – RPM | University Hospital in Denmark / 2021
360° data integration – EMERGENCY CARE | University in Sweden / 2021