Products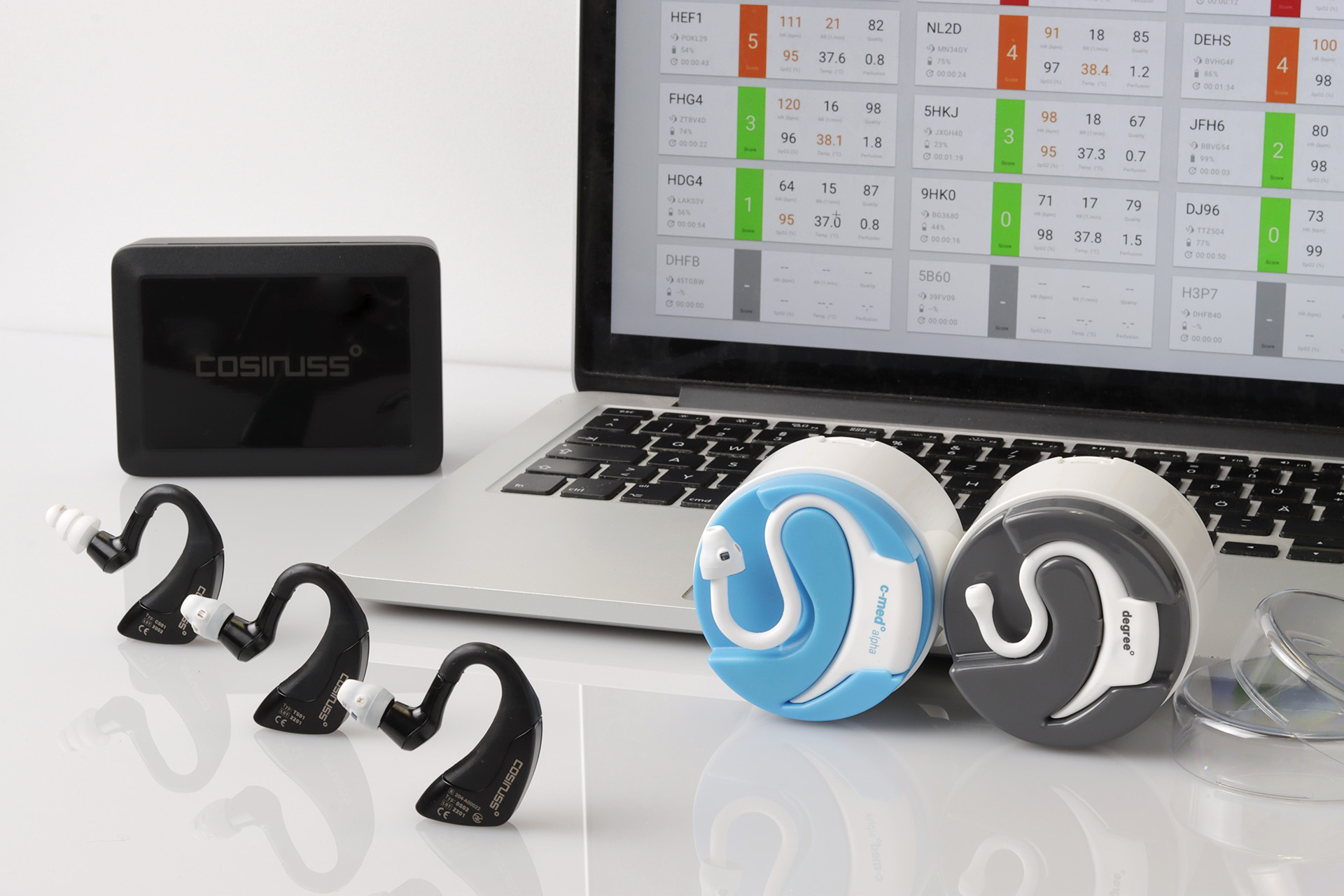 Mobile monitoring of vital signs inside the ear
In-ear sensors, minicomputers, software and algorithms for vital data acquisition and processing.
Core body temperature
Heart rate
Blood oxygen saturation
Breathing rate
Remote Vital Signs Monitoring System

cosinuss° offers a complete vital signs monitoring system from continuous data acquisition through data transmission to data access and data analysis. The system can be accessed at any point via standardized or customizable interfaces. In this way, individual components or the entire monitoring solution can be integrated into the existing infrastructure of third-party systems.
The cosinuss° monitoring technology can be divided into four different areas. Each area has a specific product range with customized solutions that adapt to a wide range of applications:
Data acquisition with in-ear sensors
Data transmission with small computers
Data access via powerful servers
Data analysis with algorithms for complex evaluations
Configuration & application options
Remote Patient Monitoring
Continuous remote monitoring of vital signs of patients who are at home.
Home Monitoring
Continuous monitoring of own vital parameters at home.
Fever Monitoring
Continuous monitoring of a child's body temperature during febrile illness.
Integration possibilities
Technology integration
The individual hardware components (incl. firmware) of the cosinuss° technology can be individually integrated into third-party systems.
For example, the integration of cosinuss° measurement sensors into existing headphones.
Customization
Customized adaptations of cosinuss° products enable seamless integration into existing third-party solutions.
For example, adaptations of the user interface.
Developer SDK
A wide range of options for customization using the cosinuss° interfaces, technical documentation and support.
For example, the connection of raw data from the cosinuss° in-ear sensors via a Rest API.